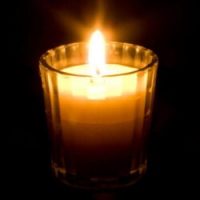 May 8, 1927 - March 30, 2012
Coleman, Callie loving mother of March 30, 2012, Age 84 years. Funeral Service at J.C. Battle & Sons Funeral Home, Cincinnati on Thursday, April 5, 2012 at 1:00 PM. Friends may call Thursday, April 5 from 12:00 PM to 1:00 PM at Chapel. Burial at Walnut Hills Cemetery, Cincinnati, Oh. J.C. Battle & Sons Funeral Home serving the family.

REVIEWING CALLIE's "SIS" LIFE
In Franklin, Kentucky on May 8, 1927, a baby girl (Callie) was born to Harry Freeland. Callie was raised by Aunt Eula until Harry moved to Cincinnati. Harry later married and Callie had new siblings.
Callie attended school; as growing older, she worked hard at numerous hotels. She married William Adams whom they had four sons, (three preceded her in death – Jerry, Snag and Herb). She later married Roy Coleman. She worked at Christ Hospital for 17 years and was known for her dedication of service. After retiring, she still kept busy. She was babysitter to a little girl named Keloni who felt the world of her. Callie attended Refreshing Springs Church and kept her faith in God until her journey ended.
Callie was a loving, caring and respected person. She loved to cook and play bingo. No one can ever say they were hungry whether she knew you or not, "the not's" would try to find a way back. Callie was a remarkable mother and had a good sense of humor. Everyone who came into her niche of life loved her. She will be deeply missed.
Those to mourn her passing are her eldest son, Preston Adams, compassionate and dedicated to his mother; one sister, Isabele Manning; one brother, Dale "Hoover" Freeland; a sister-in-law, Shirley Freeland; two daughter-in-laws, Teresa and Elaine Adams; grandchildren, James Perkins, Denise Jarmon, Donte, Preston Adams, II, Teresa (Sharvis) Wilson, Geneva St. Claire, Lamentra and Keisha Nelson and Lee Gibbs; 30 great-grandchildren; four great-great grandchildren, and a host of cousins, nieces, nephews and special friends.