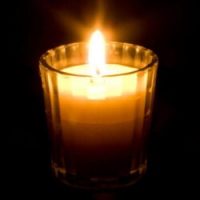 December 18, 1971 - December 7, 2012
Tillman, Julia S December 7, 2012, Age 40 years. Memorial Service at Rockdale Baptist Church, 530 Forest Av, Cincinnati on Saturday, December 15, 2012 at 1:00 PM. Friends may call Saturday, December 15 from 12:00 PM to 1:00 PM at Rockdale Baptist Church. Memorial contributions may be made to the Julia Tillman Fund at any PNC Bank Branch. Condolences to www.jcbattleandsons.com
Life Story
Julia Sheree Tillman lovingly called (Jilly) departed this life on Friday December 7, 2012 in Cincinnati, Ohio. She is the daughter of Earl Tillman and Mildred Marie (Thigpen) Tillman. She was born in Kalamazoo Michigan December 18, 1971.

Julia graduated from Gull Lake High School in Richland Michigan. She attended college at the University of Cincinnati, and later completed her undergraduate work at Wesleyan University where she earned a Bachelor of Science degree in Business Management. After a short hiatus Julia started a Master's program which she completed in August 2012. She received a Master's degree in Business Administration with a concentration in Human Resource Management. She has been employed by PNC Bank in the accounting dept since Aug of 2006 where she last held the title Equipment Finance Servicing Specialist.

She loved learning and enjoyed reading, and moved by that she volunteered to teach others how to read. She just recently taught herself to crochet so she could make and donate blankets to the homeless. She loved watching movies and spending time with her family, friends, and pets Madeline, Cody, Angel and Ci-Ci. Everyone that Jilly came in contact with was touched by her warm beautiful smile, which surely will remain with them the rest of their lives.

She leaves to cherish her memory 20 siblings: To the union of Earl and Mildred are Nina Tillman-Taylor (Kenneth) of Nashville TN, Earl Jr. of Kalamazoo MI, Rodney Tillman of Cincinnati, OH, Vincent(Natalie) Tillman of Fort Wayne IN, Eric(Debbie) Tillman, of Kalamazoo, MI, Rhonda(Robert) Tillman of Kalamazoo, MI, Stephanie(Darryl) Staats, of Clarksville, TN, Stepmother Shirley Jordan-Tillman: Kayla, Jordan, and Starr Tillman of Portage, MI. Brandi, Iris, Joseph, Cory, Kimberly, Scherrie, Shavon, India, and Michael Thigpen of Kalamazoo, MI. (4) Step Brothers and Sisters, Al and Brittney White, Josh and Jamilla Jordan, special friend Morgan of Cincinnati, OH, and a very special Niece Arianna Isabelle Tillman, aunts Jimmie Gardner of Garland, TX, Bessie Shephard of Dallas, TX. Uncles, Clarence (Zola) Thigpen of Columbia, SC. and Rev. Fred Tillman(Maethella) of Detroit, MI, Margaret Wiggins(Rayford) of Philadelphia PA, Marzella Preyer of Beatrice, AL, Special cousin: Craig Tillman of Detroit MI, and host of cousins, nieces, nephews extended family and friends.

She was preceded in death by her Grandmother Ivery Belle Dawson and Grandfather Ernest Royster.