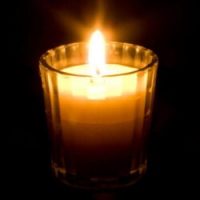 December 22, 1937 - September 22, 2012
The Obituary
Marilyn Ingram was born in Ward, Alabama on December 22, 1937 to the union of the late Marie and Peter Thomas Larkin. She went home to be with the Lord on September 22, 2012. She is survived by 3 brothers and 3 Sis-ters. She was preceded in death by her baby sister Shirley Larkin Warren and brother Deacon Randall Leo Larkin.
Marilyn was baptized at Zion Hill Baptist Church at the age of 12 years. She graduated from Kindbish Highschool in Cuba, Alabama in 1957. At one point she was studying to be a Certified Nurses Aide at Villa Hope until she fell behind in her studies due to being off sick with a bad cold. She later worked at Pogue downtown, which became Ayers, where she transferred to work at the Northgate Store until they went out of business. Marilyn was a great cook. Always cooking from scratch, she never measured anything and her food always turned out the same every time. DELICIOUS! She loved to talk and enjoyed company. Glory to God Marilyn was present at both grand-daughters' weddings. She will truly be missed by all who knew her.
Marilyn leaves not to mourn but to cherish her memories: her husband, Julius James Ingram of Eutaw, Alabama; four children: Annette I. Bell (Ricardo) of Cincinnati, Ohio; Larry Ingram of Eutaw, Alabama, Karl Ingram of Cincinnati, Ohio, and James Perry Ingram of Berkeley, California; six sib-lings: Deacon Emeritus Leon Waters (Elsie), Joseph L. Larkin, Cleo Williams, Esther Clements, Herbert Brown Larkin, and Bertha Mae Larkin; her only two grandchildren: Anita Marie Bell Daniels (DuJuan Craig) and Erica Renee Bell Garrett (Pastor Donald Edwin); and a host of nieces, nephews, other relatives and friends.