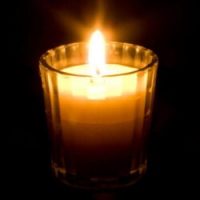 March 12, 1949 - April 21, 2014
Raines, Anna Ruth , beloved wife of George Raines, devoted sister of Marian aka (Tenna) Evans, Shirley Baker-Bullocks, Debra (Rick) Lindsey and Belinda James.April 21, 2014 Age 65 years. Funeral Service at First Baptist Church of Cummingsville, 3640 Roll Av, on Tuesday, April 29, 2014 at 11:00 AM. Friends may call Tuesday April 29 from 10:00 AM to 11:00 AM at First Baptist Church of Cummingsville. Burial at Baltimore Pike Cemetery, Cincinnati, Oh. Online condolences for family and friends may be expressed at www.jcbattleandsons.com.
Obituary
Anna Ruth (Evans) Raines was born March 12, 1949 in the West End
of Cincinnati, Ohio as the sixth child to Jesse and Ruby Evans-(Williams). Both
deceased as well as her only child Tracey JoAnn who pass away at age 17 from
Lupus.
We the family and friends of Anna come to celebrate the life and times of our dear
Annie. At an early age, Annie accepted Christ as her LORD and Savior.
Growing up downtown, Annie attended Porter Jr. High, Taft High School and the
University of Cincinnati. Annie loved music, skating and dancing. Boy!! could she
Fast Dance & Jelly Roll. Her favorite spots were The Ritz, DePorres Center, the
YMCA and St. Joseph. Annie loved acting and pantomiming (Lip-Syncing) to her
favorite records Stagger Lee and Frankie & Johnny -- And listening to the latest
Motown and other soul sounds on WCIN AM radio 1480. Anna was an avid reader.
She was always a reading a book, drawing or sketching pictures. We all remember
Anna as being fun loving, caring, and extremely generous. Likewise, Anna was a
very assertive, vocal and feisty kind of girl. She did not hold her tongue. Especially
if she was standing up for the rights of the less fortunate. For many years Anna
cared for the physically and mentally disabled – who affectionately called her
"Grandma".
Anna retired as Associate Director of Building Services in 2008 after 32 years in
her dream career at University of Cincinnati Clifton Campus. Prior to then Anna
worked at General Hospital (now UC Medical Center). Anna was a hard working
dedicated professional who inspired everyone around her to be their best.
Through the years Anna achieved many accolades for her community and business
successes. However, none were more important or endearing as her title: "Aunt A"
bestowed upon Anna by her nieces and nephews. Aunt A was all the kids favorite.
She spoiled them at a level no one could match. Not only was she the keeper of
their good times and secrets…she kept them closest to her heart….and she had plenty of heart -- Anna loved a good challenge almost as much as she loved BINGO
and cooking……Man---Could she cook!!!
Anna was preceded in death by 4 brothers: Donald aka (Donny Boy) Evans, Jesse
aka (Butch) Evans Jr., Nathaniel Evans, and Terry Evans.
Anna leaves to cherish her memory 4 Sisters: Marian aka (Tenna) Evans, Shirley
Baker-Bullocks, Debra (Rick) Lindsey and Belinda James; Step-Father: Earl
Williams. Nieces: Lisa Copeland, Lynda Benton, Lyndsay Williams, Mallory Lindsey;
Nephews: Eddie Wolf Williams, Corry Evans, Christopher James and Earl EJ James.
Cousin: Ronnie Donaldson Special friends: Janice, Marlene Long-Baxter and Jamie
Toran. Husband: George Raines and family and many loving relatives and friends.