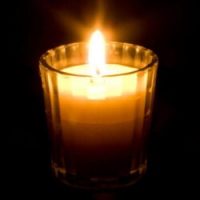 February 7, 1928 - May 21, 2012
C
harles 'June' Covington was born on February 7, 1928 at Cincinnati General Hospital in Cincinnati, OH. He was the third of five (5) children born to the late Emma Viola Herskins and James William Covington. June departed this life on Monday, May 21, 2012 in his Courtyard Apartment in Roselawn, OH. He was preceded in death by his sisters Juanita Mildred Plummer (2009) and Johanna Marie Carmen, Sr. (2011).

D
uring his youth and when not in the hospital for surgeries and/or treatments related to his affliction, he lived mostly in the Madisonville area with his parents. After the separation of his parents, he spent several years with his other brothers and sisters at the New Orphan Asylum for Colored Children located on a former Underground Railroad site located on Van Buren Street in Avondale, OH.

J
une was educated at the Condon School for Crippled Children in Avondale, OIC and the Gephardt Art School. At age 15, he received a Blue Ribbon for 2nd place in a National art contest and was given an opportunity to study art in New York. His mother would not approve. In spite of his affliction, he was a very gifted artist, woodcarver and entrepreneur.

W
hile June never married; nor had children, he leaves not to mourn his passing, but to cherish his memory: Brothers: James Samuel Covington, (Trotwood, OH) and Everett 'Jerome' Covington (Cincinnati, OH). Nieces: Beverly Brown, Johanna Marie Carmen, Jr., Jacqueline Covington, Gayle Cathy Covington, Lois Hope Covington, Deborah Hines, Marilyn McDade and Sandra Thompson (Ben). Nephews: Lester Carmen (Brenda), Jimmy Covington (Melody), Jeffrey Covington, Jameson 'Jamie' Covington, Tedd Covington, William Plummer and Louis Wisdom. Life-long Friends: Lillian Jones and Sara Mae Smith and a host of other relatives and friends - all of Cincinnati, OH.

J
une has requested that in lieu of flowers a donation be made to the Muscular Dystrophy Association (MDA) at 1080 Nimitzview Drive (Suite 208) , Cincinnati, OH 45230.