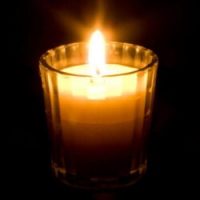 February 7, 1932 - August 12, 2014
Barkley, Erbil A , beloved husband of Alice Barkley (nee Elder) devoted father of Gwen Bassette (Anthony), Marvin Barkley, Diann McDaniel (Reginald), Anthony Barkley, Janice Barkley and Robert Barkley (Lisa) August 12, 2014, Age 82 years. Mass of Christian Burial at 11:00 AM at St. Gabriel Catholic Church, 48 W. Sharon Rd. Friends may call Friday, August 22 from 10:00 AM to 11:00 AM at St . Gabriel Catholic Church. Burial at Walnut Hills Cemetery, Cincinnati, Oh. Special online condolences for family and friends may be expressed at http://www.jcbattleandsonsfuneralhome.com

Life Story:
Erbil Augustine Barkley, died August 12th at Jewish Hospital in Kenwood of

complications from a sudden onset on pneumonia, he was 82 years old.

Mr. Barkley, the sixth child of Ardell and Hattie Smith Barkley, was born on

February 7, 1932 in Cincinnati, Ohio.

A graduate of Central high School in 1952, Mr. Barkley won one individual

and one relay state track championship while leading the team to back-to-
back state team championships in 1950 and 1951. Also a standout running

back for the Central football team, Barkley rushed for more than 1,000 yards

as a junior and senior. In 2001, he was inducted into the Buddy LaRosa

Sports Hall of Fame.

He then attended North Carolina A&T, where he was a four-year starter in

football and ran track. He was later inducted into that schools Hall of Fame

in 1995.

Erbil Barkley worked for General Electrics aircraft engine division in

Evendale, Ohio as a machinist and engineering assistant from 1956 to his

retirement in 1988. It was said that he was very proud of his work there and

of being his shops union steward.

Mr. Barkley is survived by his wife of sixty years, Alice, and his six

children, Gwendolyn, Marvin, Diann, Anthony, Janice and Robert, sixteen

grandchildren and eight great-great grandchildren.