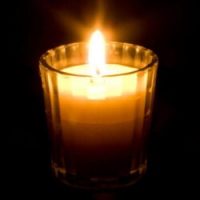 December 8, 1949 - January 14, 2014
Hughes, Fayetta beloved wife of Robert O Hughes, loving mother of Dionne McIntyre, Dwayne Smith (Tiffany), Octavia Hughes and Robert Hughes (Angie). January 14, 2014. Age 64 years. Funeral Service at Mt. Zion Baptist Church (Woodlawn) 10180 Woodlawn Blvd. Tuesday, January 21, 2014 at 11:00 AM. Friends may call Tuesday, January 21 from 9:30 AM to 11:00 AM at Mt. Zion Baptist Church (Woodlawn). Burial at Oak Hills Cemetery, Cincinnati, Oh. Special online condolences for the family and friends may be left at www.jcbattleandsons.com.

Faye spent her life with a typewriter in one hand and a spatula in the other. Fayetta Watts

Hughes, loving wife, mother and Big Boy aficionado was born on December 8, 1949 to the

sweet union of Eddie and Fannie Cornelia Watts. Faye grew up with a lot of toys, of which

she shared none. She grew up and played in the yard at her home on Jonathon, because that is

what little princesses did. Faye attended Cincinnati Public Schools where she co-oped in the

business community and graduated in 1968 from Courter Technical High School. Afterwards,

Faye attended University of Cincinnati Business College, where she honed in her administrative

talents.

Faye joined Cincinnati Public Schools and worked at various CPS sites where she was known

for her extreme efficiency and pleasant personality. While typing 100 words per minute,

Faye utilized her skilled talent at Hughes High School for 18 years and managed to sell lots

of Tupperware. She was loved by students and staff alike. Faye retired from CPS after 30

years but continued her career at Jergins in customer service and closed out her administrative

livelihood as the church secretary at Fosdick First Church of God.

The love in her life was great. From that love, Faye gave birth to twins, Dionne and Dwayne.

During her lifetime with her twins, she gave them an up close and personal glimpse into her

world of love, hugs and Frisch's Big Boys..

Faye fancied many things in her life. A few of her favorite things included family, church,

cooking, bingo and traveling. She was a big sister to family and friends who did not siblings.

Pretty cool considering Faye was an only child herself. Iola Moore (Oggi) and Faye were two

peas in a very special pod. Whether it was by train, plane or automobile, wherever Faye went,

Oggi was sure to go. Faye went to Bingo every Friday night with her father for decades and

enjoyed not-so large scale winnings.

Faye had a life-long deep love for cooking. Her breakfasts would take you into another place

and time. Her days were spent watching the Food Network and learning technique. Frisch's was

the place to go, anytime day or night. Her tuna casseroles was delicious, her grits were creamy

perfection and her caramel cheesecake was like a sweet kiss on the cheek from God.

She enjoyed collecting cookbooks and angels. Faye was also an avid shopper. With a closet

to rival Dillard's, QVC and DSW, she relished in fashion with an appreciation for the best. A

beautiful shade of red always colored her long, beautiful natural nails. Faye loved to travel, but

took it to a whole 'nother level when she met and married Bob in 2001. They stayed at the finest

hotels via thousands of redemption points. Do not try a surprise weekend visit with these two,

because they were probably in Biloxi, Mississippi, Vegas, Cancun, on a cruise ship, in Chicago,

or the Hollywood Casino.

Faye was baptized at Bethehelm Baptist as a child, then the family moved their membership to

Fosdick First Church of God where she served in several capacities including church secretary.

She joined Mt. Zion Baptist Church in 2001 and dedicated her cooking talents and time to the

Kitchen Ministry and the Women's Day Mass Choir.

So Faye is now cooking for many in that glorious Kingdom. Her husband Bob, her twins Dionne

and Dwayne (Tiffany), Octavia and Robert Jr. (Angie), her grandkids, Justin, Dwayne Jr, Cierra,

Ashley, Makayla and Sidney, 4 beautiful great grand kids, three aunts (Ceola, Beal and T), a

sister and brother-in-law Blossie and Raymond Price of Rocky Mount, North Carolina and a host

of relatives and friends will carry on the love and laughter Faye so generously gave.