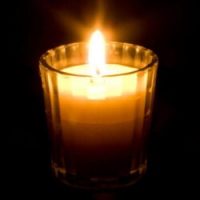 April 15, 1949 - August 17, 2013
Hicks, Jerry L. , beloved husband of Wanda Hicks (nee West) loving father of Marquis Hicks (Debbie), Lynee Campos (Eddie) and Michael Hicks. August 17, 2013, Age 64 years. Funeral Service at The Greater New Hope Missionary Baptist Church, 3655 Harvey Av. on Saturday, August 31, at 9:30 AM. Friends may call Saturday August 31 from 8:30 AM to 9:30 AM at The Greater New Hope Missionary Baptist Church. Rev. Dr Donald E. Jones, Pastor. Burial at Spring Grove Cemetery, Cincinnati OH with Full Military Honors. Special online condolences for the family and friends may be left at www.jcbattleandsons.com.

Life Story

Jerry Lynn Hicks was born in Cincinnati, Ohio on April 15, 1949. He was the only son of six children born to the union of Anna Mae Hicks and Leonard Hicks. He received his diploma from Courter Tech High School in Cincinnati, Ohio. During high school, Jerry was recognized as an All State Gymnast for demonstrating extraordinary (and seemingly gravity defying) talent on the pummel horse, ring and floor exercises.
Jerry voluntarily enlisted in the United States Army in 1968 and proudly served in the 1st Provisional Rifle Co.173, rising to the rank of Sergeant. While deployed to Vietnam, Jerry earned the National Defense Service Medal, Vietnam Service Medal, Republic Vietnam Campaign Medal, Combat Infantryman Badge, Sharpshooter (Rifle M-14) 1st Class Gunner Badge and Sharpshooter (Rifle M-16) 1st Class Gunner Badge.
After concluding his service, Jerry met his wife, Wanda "Wan" Hicks, in Cincinnati and they married on August 8, 1979. Jerry then went on to attend the University of Cincinnati's College of Design, Architecture, Art, and Planning (DAAP) and graduated Magna Cum Laude with a Bachelor of Science Degree in Urban Planning.
Jerry began his professional career with The Proctor & Gamble Company. After leaving P&G, he went on to begin what would become a distinguished career in real estate with Coldwell Banker & Associates and Britton & Associates. Jerry achieved the professional designation of licensed real estate agent and was regularly recognized in local papers for top residential sales during his tenure at Coldwell Banker.
Owner of Hicks Properties, LLC, a full service real estate company, Jerry was one of Cincinnati's most accomplished entrepreneurs in residential real property. A skilled and successful businessman, Jerry acquired a portfolio of 27 multi-family residential rental properties and more than 100 rental units. From custom building his family home in Historic North Avondale, to representing his own family members in the purchase of their first homes, Jerry had a passion and a talent for real estate and the central role it played in building family memories.
"Papa" to "Little Eddie" and "Muscle Man" (a.k.a., Nate and Eli), Jerry was a treasured grandfather and enjoyed treating the "Little Ones", which he adored, to sprinkle pancakes at IHOP (and to the buffet at "The Boat"). Jerry's was easily identified by his baseball cap, which he wore at all times, and was always "takin' care of business" as he'd readily tell you.
A beloved son, brother, husband, father, grandfather, uncle and friend, Jerry leaves to celebrate his life his wife, Wanda "Wan" Hicks; children, Marquis "Wayne" Hicks (Debbie), Lynee "Nee" Hicks Campos (Eddie) and Michael "Mike" Leonard Hicks; grandchildren, Nathaniel "Nate" Dimas Campos and Elijah "Eli" Mateo Campos; siblings, Patricia Rush, Deborah Heater, Renee Willis (John), Michelle "Mickey" Wells and Donna Campbell (Jeffrey); nieces and nephews, Brian Rush, with whom he had a special relationship, (Billie), Chris Rush (Shaneia), Devin Heater; Tiara Kilgore (Phillip), Ashley Cephas (Jonathan), John and Jordan Willis; Aubrey and Tyler Wells; Alexandria "Alex", Taylor and Kaylin Campbell, and many other loving nieces, nephews, in-laws, and friends.
Jerry was preceded in death by his son, Matthew Owen Hicks, his mother Anna Knight Hicks and his father, Leonard Hicks.