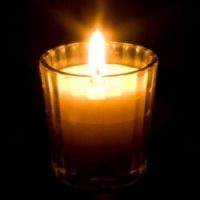 June 2, 1972 - June 24, 2014
Shelton, LeDon D loving son of Deborah D. Shelton devoted father of Keon l. Shelton, Kori D. Shelton and Kayla C. Shelton. June 24, 2014 Age 42 years. Funeral Service at Corinthian Baptist Church, 772 Whittier St. on Wednesday, July 2, 2014 at 6:00 PM. Friends may call Wednesday, July 2 from 4:00 PM to 6:00 PM at Corinthian Baptist Church. Special online condolences for family and friends may be expressed at www.jcbattleandsons.com


OBITUARY

LeDon Darnell Shelton

June 2, 1972 - June 24, 2014

LeDon D. Shelton (affectionately known as "Donnie", "Dondada" and "Don") was born June 2, 1972 to Benjamin & Deborah Shelton in Cincinnati, Ohio. He was a football athlete graduating from the Aiken Senior High School in 1990. Afterwards, he joined the U.S. Army where he was trained in Engineering and fought in the Saudi Arabian War. Upon his return home, he worked many years at the SPCA where he referred to himself as "The Dog Catcha!" He also worked at the MRDD. His other profession and passion was cutting hair. Self-Trained, he aspired to continue the legacy of his grandfather, the late Lester Hankerson, Sr.

He was baptized at an early age at Shiloh Baptist Church. In 1981, Donnie joined the BibleWay Church of God in Christ under the late Dr. Abraham I.J. Swanson, XII, where he developed his passion for the drums. He later joined played drums at the New Friendship Baptist Church, under the leadership of Pastor H.L. Harvey. In 2012, he felt led to rededicated his life to Christ and was baptized as a member of the Consolation Baptist Church under the leadership of Senior Pastor Gene Ellington.

Donnie often said that his greatest accomplishment in life was fathering his children. He was a proud father who constantly bragged on his children. Keon (his "Champ"), Kori (his "Dude") and Kayla (his "Bear") filled his life with many warm and wonderful moments. His dedication to keep them active encouraged his involvement in sports. He was known as "Coach Don" by the Western Athletic Association (WAA) where he served as a coach and mentor for more than eight years. He also coached for the Cowboys. When not coaching, he was the captain of the side-line, cheering on his kids in every sport from football to dance team. In his eyes, his kids were the cutest and the best at everything!

Don shared that same passion and loyalty for his family and friends. He was known to show up at your door, unannounced yelling, "YaDig!" or "Ondareal!" He expected to eat and he just might take a nap! Being a very outgoing and out-spoken person, he was never ashamed to crack a joke, bust a dance move, or break out in song with a mighty roar, "CHALLENGE!". Donnie was a MASTER story-teller! He would have folk on the edge of their seat (later on the floor in laughter) with his animated details and embellished endings. He was truly the life of the party. His smile lit up any room and his laugh distinguished him from the crowd. Anybody he embraced was family and their kids became his kids. A proud "Mama's Boy" to his heart! He'd tell you in a heartbeat, "I can make my Mama mad, but better not anybody else!" No one sang better than his Sissy! He would gladly show up, bringing the "bizzness" about any of his cousins and kept the crowd in stitches imitating his father. He was PROUD of his family.

His other joy was cooking and in his book he was the greatest (beside his Mama). Every holiday or family gathering was his opportunity to flex his "culinary" skills. He was famous for his "burgers-yadig!", his ribs with the famous sauce and his mighty kabobs. It brought him joy to ask a million times, "Tastes good, don't it!?".

It would be impossible to condense into this program all those who had an impact on Donnie's life. For fear that one would be overlooked, the decision was to not list any. We hope those whom he held close are not offended that your name does not appear. His family will never forget how he spoke of each of you and the joy you brought to his life.

After a long, hard fight, Donnie departed this life on June 24, 2014 in great peace. He leaves to cherish life and memories his loving mother, Deborah Shelton, his father, Benjamin F. Shelton, Jr. (Marva), his children: Keon, Kori and Kayla Shelton; his "Sissy", LaTascha Hankerson; all of his aunts, uncles, cousins, extended family and a host of friends & loved ones.