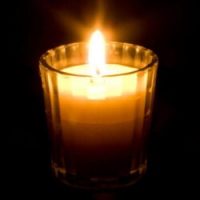 February 6, 1923 - March 6, 2017
Milton Gooding, known as "Buddy" went home to be with the Lord on March 6, 2017 at the age of 94. He was born February 6, 1923 in Kinston, North Carolina to Benjamin Gooding and Alice M. (Morgan) Gooding, both preceding him in death. Also preceding him in death was his wife, Frances W. Gooding; his daughter, Edna E. Jerrels; his brothers, Benjamin Gooding, Jr., Orange Gooding, and Theodore Gooding; his sisters, Lela M. St. Cyr, Eunice L. Fox, and Nannie L. Harris.

He leaves to cherish his memory: Four daughters, Deena L. Thompson, Millie F. Thompson, Vicki B. Davis (West), and Selena Garner; two sons, Gerry M. Gooding and Anthony M. Gooding; 21 grandchildren, 49 great- grandchildren 9 great-great-grandchildren; 4 nephews, 1 niece, 1 cousin (Isaiah Morgan), and a host of great nieces, nephews and friends.

He began working at the age of 10 until 89 years old. As a teenager he designed a lighted walkway from his house to the road; he had a green thumb and was known for growing the largest watermelons in his town; he worked in the tobacco fields, he worked in the Navy yard in Virginia, and when he moved to Cincinnati in 1953, sometime thereafter, he started working at Sears in the fencing department for many years. He exhibited great skill in carpentry-building decks, pulpits, bookcases, etc. He also became an electrician where he used his skills in the church and around the city.

He was a man who loved to 'dress' (especially in suits with matching shirt, tie, socks, shoes, and hat ). He loved to fish, collect guns, cook (his specialty was sweet potato pies and greens). He loved giving to others; he was very generous with whatever he had. He loved to tell stories mostly from his youth, always making people laugh. But most of all he loved his family.

He was baptized and became a Member of New Life Temple Church in the early 80's. He also supported his son Gerry's church, Walk By Faith Christian Ministries. He was a man who loved to pray and intercede on the behalf of others. He held fast to the Scriptures: Matthew 18:19 and Mark 11:24
It is hard to sum up a life, so full and richly lived, in these few paragraphs. But this we know: He loved the Lord and will be greatly missed.