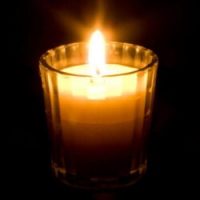 February 10, 1937 - February 16, 2012
Raymond Lorenzo Hardin, our dear brother and friend, was born on February 10, 1937 to Lenora Foster Hardin and Ernest Hardin. Raymond was the fourth of eight children. He was preceded in death by his mother and father, one sister, Johnnie Mae Wise and cherished granddaughter, Kayla Nicole Hardin.

Raymond lived a happy childhood having many friends and relatives. He graduated from Woodward High School in June, 1955 and attended U.C. for a period of time. He enlisted in the Air Force and spent 2 years in service to his country. He returned to Cincinnati and became an employee of the U.S. Post Office for 36 years.

Raymond married Virginia Bridges on August 30, 1968. He regularly attended Bond Hill St. Mark United Methodist Church (now New Vision United Methodist Church) for many years.
Raymond suffered from kidney failure. On Father's Day of 2004, his daughter Kimberly offered him the gift of her kidney, and it was successfully transplanted November 30, 2004. His kidney remained in good working condition until his demise. Two years ago, God miraculously healed him of a deadly form of pneumonia. At that time, he came to know the Lord Jesus.

He loved and enjoyed his family and regularly visited all of them. He was so proud and devoted to his grandchildren. Raymond was a CNN buff, loved music and kept up on all the popular tunes.
Left to cherish his memory is his loving wife, Virginia, his daughter, Kimberly Ann Hardin, his son, Vincent Lee (Teresa), sister Ernestine Brown, brother Ledonia Hardin (Alfronia), brother Roger Hardin (Norma Jean), sister Luveen Posey (Melvin), sister Carmina Patton (Michael), and youngest brother, Kirk. He also leaves his magnificent grandchildren Lauren Ashley, Vincent Lorenzo and Amber Janai. He leaves many relatives and friends with fond memories of him.