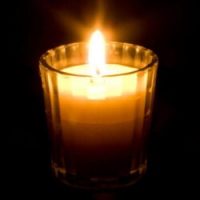 November 26, 1958 - June 29, 2014
Chappell, Sandra E , devoted sister of Sherrie Chappell and Darryl Blackwell. June 29, 2014 Age 55 years. Funeral Service at Lincoln Heights Missionary Baptist Church 9991 Wayne Av. on Saturday, July 5, 2014 at 11:00 AM. Friends may call Saturday, July 5 from 9:30 AM to 11:00 AM at Lincoln Heights Missionary Baptist Church. Burial at Oak Hills Cemetery. Special Online condolences for familty and friends may be expressed at www.jcbattleandsons.com



Sandra Erenia Chappell was born November 26, 1958,

in Cincinnati, Ohio to the union of the late James and

Lucille Ellis Chappell. On early Sunday morning, June

29, 2014 at 8:10 a.m., God sent one of his angels to

bring his child home. Sandy as she preferred to be

called loved the Lord and professed her love and belief

in God at an early age. She was baptized at Tabernacle

Baptist Church by Rev. Clayton Waller.

Sandy started school at the early age of 4 and was always

the youngest in her class. She attended St. Simon grade

schools from Kindergarten to 6 grade where she was

known as the fun person to be around. Sandy always

had an infectious laugh and SMILE, she never met a

stranger. She was extremely comical even though she

was serious about what she was saying. Sandy graduated

high school from Princeton and went on to earn a BS in

Social work from Central State University in 1981.

Sandy worked at many large corporations throughout

the city before going into the health field. The health

field was where she found her niche. Caring for people,

especially the mentally challenged, gave her much joy.

As she would tell them all the time, I am not laughing at

you but with you because life is good, let's just forget

everything and laugh, it will be better. That's why when

she had to go dialysis, she didn't claim it as an illness,

she would say this is just a test that God knows I can

handle. While on dialysis, Sandy worked 65 plus hours

also. What a testimony when some won't even work 20

hours. Then in September 2011, she was blessed with a

transplant kidney. She was so happy, first think she said,

I got three extra hours I can get another client.

Besides working for an agency, Sandy was an

independent provider for DDS an the elderly. Every

client she has ever taken care of has loved her to death.

Besides work, Sandy loved shopping, going to church,

music and spending time with her sister, Sherrie.

Hardly ever saw one without the other, their

relationship was a total devotion to each other. Sandy

loved people totally and celebrated life every day. Even

when numerous health challenges came her way, she

wouldn't complain, her mission was to make someone

else's life better by a smile or laughter of her and Sherrie

making them a dessert or meal.

Sandy leaves to cherish and mourn her passing: her

devoted, almost win like sister, Sherrie Chappell;

brother, Daryle Blackwell (Vickie), like a brother,

Dwight (Diane) Favors, Elaine (Archie) Pretty, several

nieces, Malika (WB, Eboni (LB), Caressa Blackwell,

Jocelyn, Alicia Perry, Devin and Danielle Favors;

several great nieces and nephews, Darren, Evan,

De'Ayrah, Da Mauri, Devin, Emariyae, Landin, Harper,

Caleb, Eli and Dana; God daughter, DeAnna Shores

and Annette Vandergriff and God son, Christopher

Holland, special sister-in-law, and friend, Juanita

Blackwell; God brother and sister, Jutuan and Tyler

Patton. Childhood friends for life: Evie Williams and

Kimberly Holland, numerous cousins and friends,

clients, God parents, Eugene and Annie Moore, Pauline

Williams, Esther Williams Williams, Willis ad Nellie

Ellison whom have given much support to Sandy and

Sherrie; special acknowedgement to cousin Alvin

Jackson; neighbor LaTonia Wright, Vera Clement and

Sharon Williams, whom were very supportive during

these last few months of Sandy's illness.