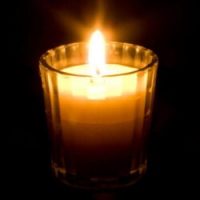 March 22, 1966 - July 4, 2012
Sharon Denise Welch was born March 22, 1966 in Tuscaloosa,
Alabama to Albert and Mary Welch. She departed this life on
July 4, 2012.
Sharon affectionately was called Tyna by family and friends.
She accepted The Almighty in her life at an early age and was a
member of The Church of the Living God, under the pastorate of
Elder Eugene Martin.
She leaves to cherish her memory: three sisters: Jo Ann Hutton,
Mary Anna Welch and Yolanda Marie Welch; three brothers:
Albert Lee Welch, Leon Hutton and Mark Hutton all of
Cincinnati, Ohio; her nephews and nieces: Antonio Hutton,
Kawaski Hutton, Diamond Welch, Demar Hutton, Tarquin
Welch and Desiree Hutton; five aunts: Dolly O. Pointer, Rose L.
Roland, Annie Ruth Archibald, Irene Crawford and Mary
Crawford; three uncles: O.D. Crawford, Archie Roland and
Nathaniel Archibald; and a host of cousins, other relatives and
friends.
Fill not your heart with pain and sorrow,
but remember me in every tomorrow.
Remember the joy, the laughter, the smiles,
I've only gone to rest a little while.
Although my leaving causes pain and grief,
my going has eased my hurt and given me relief.
So dry your eyes and remember me
not as I am now, but as I use to be.
Because I will remember you all and look on with a smile,
Understand, in your hearts, I've only gone to rest a little while.
As long as I have the love of each of you,
I can live my life in the hearts of all of you.