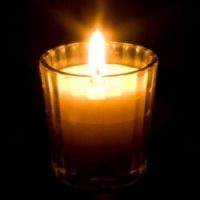 May 21, 1969 - February 24, 2012
Toni Lee Angora,

Toni Lee Semans was born on May 21, 1969 in Rapid City South Dakota. Toni was raised by her mother Donna Turner and her stepfather Dimitrios Turner. She first married at the young age of 17. Throughout her life she suffered from a series of physical illnesses and depression which kept her from fully living. Toni was always generous and loving and she will be dearly missed by many. The young ones loved her company. She loved family and always wished to be with her children although circumstances kept them apart. When she could, she enjoyed photography. She also was able to live in Guam and Spain for awhile.

She leaves to mourn, her mother, Donna Turner, who looks forward to seeing her daughter in paradise, in all the perfection Jehovah intended for each one of us, as well as her stepfather, Dimitrios Turner. Also grieving her loss are her four children, Joseph Jr. (Las Vegas NV), Josephina (Rochester, NY), Dimitrios (Amelia, OH), and Anjelina (Detroit, MI). To the four of you: She never went a day without thinking of you. Take comfort that she is now in Jehovah's memory.

Toni also leaves siblings: Lori (Omaha, NE), Nicole (Atlanta, GA), Brandy, Herbert, Dimitria, and Monica (Cincinnati, OH), and a host of nieces, nephews, family and friends.To everyone feeling the pain and grief: let's all remember that this is not a "Goodbye," this is simply a "Goodnight." One day soon all those sleeping in death will be awakened.John 5:28.
Do not marvel at this, because the hour is coming in which all those in memorial tombs will hear his voice and come out.
Goodnight, Toni.